Requirements: Basic Skill Lv. 9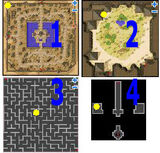 In Morroc Town, exit at the top left corner of the map to get to Morroc Ruins. From there, go to top left again to get into the Pyramid Dungeon, walk to the center of the map, go downstairs and go into the room at the left to talk to Thief Guide (moc_prydb1 39,129) to sign up for the Morroc Thief Test.
Note: Becareful of Familiars along the way, they can kill you if you are mobbed by 3 or more.
After you've talked to Thief Guide go back to Morroc Ruins to find and talk to 
Mr. Irrelevant (
moc_ruins 141,125)
 to get warped to Shibu's Farm.
There are 2 kinds of mushrooms on the farm that you can collect, Orange Net Mushrooms and Orange Gooey Mushrooms.
1 Orange Net Mushroom = 3 points
1 Orange Gooey Mushroom = 1 point
You need at least 25 points to pass the test. When you collected enough, you have to go back to the Thief Guide and talk to Test Grader Comrade Brad.
Notice: you have to die in order to get out of the farm. There is an exit portal (though not showing in mini map) in the bottom middle pathway. Tips: You may want to take off your weapon and shield to attack faster.
Go back to Pyramid Dungeon Basement then talk to Comrade Brad (moc_prydb1 42,133) then he will see if you have enough points to pass the test depending on how many mushrooms you collected. If you pass, he will change you to a thief. He will also give you a little reward for stealing the mushrooms when you pass the test.
Notice: Identity of such reward is unconfirmed. There was no free weapon given, however, do check Thief Training Quest for free Main Gauche [3].
Credits to respective content owners.